Design excellence transcends styles or trends. Good design connects people to places, creating a bond between people and their built and natural environment. Our goal is to create the best possible landscape design solution for your lifestyle and property; one that is reflective of your personality and sensitive to your home's architecture, your neighborhood, and the surrounding environment.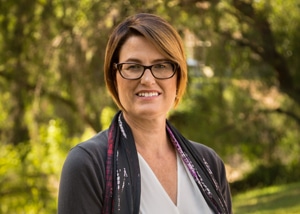 Alison Terry
Owner
Alison's art and architecture background enables her to visualize designs and communicate that vision to you through sketches and plans. She especially enjoys developing landscape designs for architecturally significant and historic homes, where she can carry the overall landscape vision through to all the exterior details. Alison is passionate about sustainable landscape practices where water is conserved onsite through infiltration or re-use, native and Mediterranean plant palettes contribute to wildlife and work with our climate, and building materials are thoughtfully sourced and/or recycled.
Education. Alison received a BA in Art and Architectural History from Smith College in Northampton, Massachusetts, spending a year abroad in Provence and Paris, France. She received a Masters in Landscape Architecture (MLA) from the University of Virginia School of Architecture in 1993.
Professional Experience. Alison worked with the National Park Service (NPS) from 1992-1998 on varied design and construction projects. She was Team Captain for Restoration of Cumberland Gap for four years, Construction Inspector for the Franklin Delano Roosevelt (FDR) Memorial in Washington DC for one year, and worked on projects for Zion NP and the White House. In 1998 she established her own landscape architectural design practice. Years of working in design through construction have given her the tools to work with contractors effectively. She has worked with the Orange County Water District and as a consultant with G3 for West Basin Water District.
Licensing & Professional Associations. Alison is a licensed landscape architect in the State of California and is a member of the American Society of Landscape Architects. She is on the Executive Committee of the Southern California ASLA, as Historic American Landscape Survey (HALS) liaison, and is a Board member of the Mediterranean Garden Society. She is a G3 (Green Gardens Group) Certified Sustainable Landscape Professional.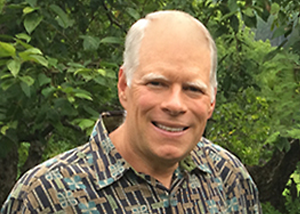 Robert Terry
Owner
Rob's photographic eye, lighting expertise, and 3D rendering skills add dimension to our design process and deliverables. Rob's attention to detail and ability to engineer unique and creative solutions for projects allow us to think outside of the box and offer project oversight from project inception through construction to ensure that the artistic vision in maintained.
Education. Rob attended Cal State Fullerton and studied Sociology. He focused on how people and society change based on the technology they use. This was the advent of the personal computer era and he used this knowledge to grow his professional career. He continues studies in Computing, 3D rendering, Lighting, and Photography.
Professional Experience. Rob owned and ran his own IT design and installation company for 20 years before meeting Alison in Colorado. When they returned back to Southern CA he became vice president of Miditainment, a computer multi-media company, and later moved on to be the technology and IT director at CAbi (Carol Anderson by Invitation – an apparel manufacture). While working full time for Terry Design, Rob has also taken time to collaborate with Litepanels (an award winning motion picture lighting manufacture) to design trade show infrastructure, provide live event photography, and develop web and trade videos.
Licensing & Professional Associations. Rob is a FAA licensed private pilot and UAS (drone) operator. He recently documented the City of Fullerton's Hillcrest Park renovation via aerial photography over a 7 month period, and provides aerial services for our industry.